Other Training:
Autism Awareness
Bed rail safety
Dementia
DOLS
End of life
GDPR
Medication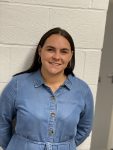 Hi I am Jodi, I am a mother of 4 beautiful children – I worked in social care for 7 years before starting my family, while they were younger I studies Barbering but now they are older I am able to return to my passion. I enjoy helping people and have a friendly, cheerful personalty. I love to talk about lots of different topics, I love shopping, eating out and camping!
What people say about me!
How do you know the above individual? Colleague

How long have you known the above individual? 10 years +

What words best describe their personality? Caring, Thoughtful.

Did you employ the above individual? Jodi was employed by the company

What is your assessment of:

Quality of work  – Good

Quantity of work – Good

Application to job – Good

Honesty – Good

Relations with others – Good  team player

Attendance/Punctuality – Good

Work without supervision – Good

Any other comments you wish to add with regards to individual's suitability for the role of a Personal Assistant in Health and Social Care.

Jodi was a valued member of the team. She used her initiative and was good at time management in the workplace.  She had great of understanding and knowledge of her job role. She had a great working relationship with staff, residents and their families. 
Training completed after July 2019:
CC STD 1 Understand your role
CC STD 2 Personal Dev
CC STD 3 Duty of Care
CC STD 4 Equality & Diversity
CC STD 5 Working in a person centred way
CC STD 6 Communication
CC STD 7 Privacy & Dignity
CC STD 9 Mental Health Awareness
CC STD 10 Safeguarding adults
CC STD 10 Safeguarding children
CC STD 12 Basic life support
CC STD 13 Health & Safety
CC STD 14 Handling of information
CC STD 15 Infection prevention control
Face to Face Training:
Medication awareness
Adult Mental Health, Degenerative conditions support, Dementia Support, Diabetes Support, management, MS, Neurological conditions, Older People, Parkinson's disease, Reablement – Home from hospital discharge, Short term Respite, Support with Learning Disabilities
Updated 2 months ago