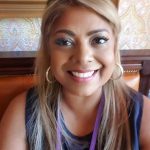 Hi, my name is Samantha (prefer to be called Sam). I am married with a son aged 9 years and live in Chesham.
I have worked in various roles in Social Care and worked on and off with NHS and privately for more than 20 years.
Through personal life experiences I have knowledge of Mental Health, Diabetes, Drug awareness, Alcoholism, Downs Syndrome, Parkinson's Disease. I am fully trained First Aider for St John's Ambulance and I am working towards becoming a voluntary Ambulance Driver. I used to work for Bucks Urgent Care at Wycombe Hospital and at the 111 Call Center.
I have a lot of experience working with patients/Clients. I see myself as a caring person. I have respect for people and I like to think people like me as this goes a long way. I enjoy helping people and I always go the extra mile in helping others. I am a happy person with full of personality and always happy. I like to put a smile on peoples faces. I am a good listener. I work well on my own or in a team. i am very adaptable to anything and pick up things very easily.
I look forward to hearing from you if I can help.
Training completed after July 2019:
CC STD 1 Understand your role
CC STD 2 Personal Dev
CC STD 3 Duty of Care
CC STD 4 Equality & Diversity
CC STD 5 Working in a person centred way
CC STD 6 Communication
CC STD 7 Privacy & Dignity
CC STD 9 Mental Health Awareness
CC STD 10 Safeguarding adults
CC STD 10 Safeguarding children
CC STD 12 Basic life support
CC STD 13 Health & Safety
CC STD 14 Handling of information
CC STD 15 Infection prevention control
COSHH essentials
Fire safety
Training completed before July 2019:
Understanding your role
Personal Development
Duty of Care
Equality and Diversity
Working in a person-centered way
Communication
Mental Health Awareness
Safeguarding Adults
Safeguarding Children
Health and Safety
Handling Information
Infection Prevention and Control
COSHH Essentials
Fire Safety
Face to Face Training:
Basic life support
Move and assist safely
Medication awareness
Adult Mental Health, Dementia Support, Diabetes Support, management, Older People, Older People, Parkinson's disease, Short term Respite, Support with Learning Disabilities
Updated 3 weeks ago
Candidate ID: 7378