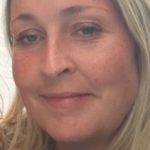 I have been caring for children for the past 13 years working in a Pre-school setting, I was the deputy manager and SENCO with experience of supporting staff, children and their parents/carers, dealing with everything from safeguarding issues to referring children to Specialist outside agencies.  I am currently still child minding before and after school and would like to now extend my knowledge and expertise by caring for adults in the community especially after recently helping a close family member through a difficult time.  It is my passion caring for and helping others.
I am married with four older children and have a dog that keeps me very active.
What people say about me!
Training completed after July 2019:
CC STD 1 Understand your role
CC STD 2 Personal Dev
CC STD 3 Duty of Care
CC STD 4 Equality & Diversity
CC STD 5 Working in a person centred way
CC STD 6 Communication
CC STD 7 Privacy & Dignity
CC STD 9 Mental Health Awareness
CC STD 10 Safeguarding adults
CC STD 10 Safeguarding children
CC STD 12 Basic life support
CC STD 13 Health & Safety
CC STD 14 Handling of information
CC STD 15 Infection prevention control
Face to Face Training:
Basic life support
Medication awareness
Adult Mental Health, Children / under 18's, Degenerative conditions support, Dementia Support, MS, Neurological conditions, Older People, Support with Learning Disabilities
Updated 1 month ago