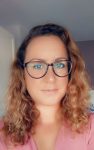 HI, I'm Samantha (Sam),
I'm 35 years old and a mother of 2 children. I currently work part time for Royal mail as a post lady and have done so for 12 years.
Now my children are at school, I'm looking to further my career in a field that will be challenging and rewarding.
I enjoy working with people and see myself as a very understanding and compassionate person. I'm a good listener at the same time I like to chat!
I'm easy going and honest and feel I  get on with most people.
I'm willing to undertake any training that is required. I'm keen and eager to learn any new skills that is required of me and would welcome the challenge.
What people say about me!
How do you know the above individual? Met her through work and have become personal friends.

How long have you known the above individual?  12 years.

What words best describe their personality? Fun, caring and genuine.

Did you employ the above individual? No, but I have worked with her for 12 years.

What is your assessment of:

Quality of work: very good.

Quantity of work: very good.

Application to job: very good.

Honesty: impeccable.

Relations with others: Sam is much liked and very popular with everyone in the delivery office.

Attendance/Punctuality: very good.

Work without supervision:never a problem.

Any other comments you wish to add with regards to individual's suitability for the role of a Personal Assistant in Health and Social Care.

Sam is a very likeable person with a caring nature. She is friendly and talkative and has a patient nature. She is very honest and hard working.
Training completed before July 2019:
Introduction to the care certificate
Understanding your role
Personal Development
Duty of Care
Equality and Diversity
Working in a person-centered way
Communication
Mental Health Awareness
Safeguarding Adults
Safeguarding Children
Health and Safety
Handling Information
Infection Prevention and Control
COSHH Essentials
Fire Safety
Adult Mental Health, Children / under 18's, Degenerative conditions support, Dementia Support, Neurological conditions, Older People, Older People, Support with Learning Disabilities
Updated 10 months ago