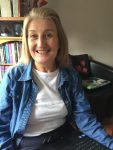 Hi I'm Suzanne, I have a lot of experience working with people and I love being involved in the care industry, I'm naturally caring and have excellent communication skills.
I love chatting to all my clients, getting to know them so that I can offer the best possible care, I am very conscientious and won't let you down. 
I have two grown up daughters who I love to spend time with, I love pottering around in my garden and walking my dog.
Training completed after July 2019:
CC STD 1 Understand your role
CC STD 2 Personal Dev
CC STD 3 Duty of Care
CC STD 4 Equality & Diversity
CC STD 5 Working in a person centred way
CC STD 6 Communication
CC STD 7 Privacy & Dignity
CC STD 9 Mental Health Awareness
CC STD 10 Safeguarding adults
CC STD 10 Safeguarding children
CC STD 12 Basic life support
CC STD 13 Health & Safety
CC STD 14 Handling of information
CC STD 15 Infection prevention control
COSHH essentials
Fire safety
Face to Face Training:
Medication awareness
Adult Mental Health, Children / under 18's, Degenerative conditions support, Dementia Support, Diabetes Support, management, MS, Neurological conditions, Older People, Older People, Parkinson's disease, Reablement – Home from hospital discharge, Short term Respite, Support with Learning Disabilities
Updated 4 weeks ago
Candidate ID: 5843