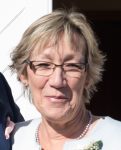 Personal Assistant
I have been working in care since I was 17 and have supported a wide variety of people with very differing needs. The majority of my recent experience is with people who have a learning disability, are older or have dementia.
I feel strongly about treating people with dignity, building confidence and ensuring the support I give, is how the person chooses, not what is easiest or quickest. I love getting to know people,  chatting and enabling them to do the things they enjoy.
I am married with two grown up daughters and also have a rescue dog with some interesting behaviours!
I have some flexibility with hours and days I work and am happy to fulfil occasional hours outside those stated.
Training completed after July 2019:
CC STD 1 Understand your role
CC STD 2 Personal Dev
CC STD 3 Duty of Care
CC STD 4 Equality & Diversity
CC STD 5 Working in a person centred way
CC STD 6 Communication
CC STD 7 Privacy & Dignity
CC STD 9 Mental Health Awareness
CC STD 10 Safeguarding adults
CC STD 10 Safeguarding children
CC STD 12 Basic life support
CC STD 13 Health & Safety
CC STD 14 Handling of information
CC STD 15 Infection prevention control
COSHH essentials
Fire safety
Training completed before July 2019:
Personal Development
Duty of Care
Equality and Diversity
Working in a person-centered way
Communication
Mental Health Awareness
Safeguarding Adults
Safeguarding Children
Health and Safety
Handling Information
Face to Face Training:
Medication awareness
Other Training:
Covid 19 Essentials
Level 3 NVQ Health and social care
Adult Mental Health, Children / under 18's, Degenerative conditions support, Dementia Support, MS, Neurological conditions, Older People, Older People, Parkinson's disease, Support with Learning Disabilities
Updated 4 weeks ago
Candidate ID: 9016