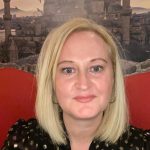 Hi I'm Sarah
I have been working within Health and Social care for the last 15 years
I have worked in residential Care Homes within Dementia, Residential and Nursing environments.
Supporting individuals with various needs and challenging behaviours.
I really enjoy my work and making a difference to people's lives.
I always work with respect and dignity towards everyone I have the pleasure of assisting.
I am a mum to two boys who are both in Secondary school (growing up too fast!)
I also have two dogs which I love to walk. I love to socialise too.
The years spent working within the care sector have meant I have learnt to become a good listener and support to not only the individual but their families too. Promoting well-being, independence and dignity is always at the forefront of my approach when assisting clients.
Training completed before July 2019:
Introduction to the care certificate
Understanding your role
Personal Development
Duty of Care
Equality and Diversity
Working in a person-centered way
Communication
Mental Health Awareness
Face to Face Training:
Basic life support
Move and assist safely
Medication awareness
Adult Mental Health, Degenerative conditions support, Dementia Support, Older People, Parkinson's disease, Short term Respite
Updated 1 year ago
Candidate ID: 1144